Hits: 957
Kneeling on the floor of the bathroom with my face covered in the cum of three black men, I realize that the warning the internet guy had given me about black cock was true. I was becoming addicted to black cock already! I had cum in my pants just from sucking their cocks, I had not even touched myself once!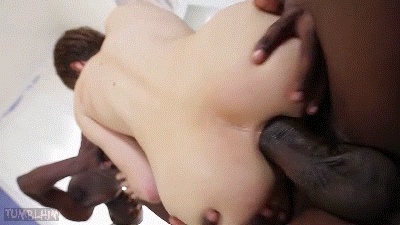 The two younger guys zip up their pants and as they get ready to leave, they comment to the older guy, "Man, you got a good cocksucker here! This bitch is good. You gotta let us use his mouth again!" they continue to make lewd comments about me as they shake hands and say their goodbye's.
They leave and I'm left in the bathroom on my knees with the older black guy. As I try to wipe some of the cum off my face, he turns and looks at me. "Yeah, you can't get enough black cock now, can you? You a real cocksucking bitch. You need black cock all the time, don't you? As he said this to me, he unzipped his pants and revealed his huge black cock, semi-hard and dangling in front of me. I couldn't keep my eyes off it! He walked up to me and dangled his cock in my face, moving his hips slightly from side to side so that his cock swung in front of me, sometimes gently touching my lips and nose with the tip of his cockhead as it swung by. "Yeah, you love this cock in your face, don't you, bitch?" I just stared at his cock, mesmerized by the swinging motion of this obscene pendulum, his words penetrating into my brain. It was like I was being hypnotized by his cock and his words.
"You gonna take this cock all the time. You gonna be my bitch from now on. When I call, you gonna run and service my cock and eat my nut. You're my private cocksucker now."
Everything he said seemed true and inevitable at that moment. My head was still spinning from the excitement of sucking black cock, my face covered in cum, his cock swinging in my face, grazing my lips and nose, the musky smell of his cock penetrating directly into my brain as it dangled in front of me. I was starting to get hard again, and all I wanted was to suck him again, then and there. I couldn't take this much longer.
"You want this dick again, don't you cocksucker?" I looked up at him and said, "Yes". "You want to suck my cock and swallow my nut, don't you?"
"Yes," I answered.
"You want to be my bitch and take black cock, don't you?"
"Yes, I want your cock", I said, increasingly desperate to suck his cock which he continued to swing in front of my face, teasing and taunting me. "I know you do, bitch, but not here. I live a couple of blocks away, we can chill at my place and you can have all the cock you want". I got nervous at this suggestion. One thing was coming to a gloryhole to suck cock, another was to go to some stranger's apartment! I must have shown the doubt on my face, because he noticed it immediately.
"If you want more cock, then you gotta come to my place. You know you want this cock, bitch. You know you can hardly stand it in front of you. You want to feel it sliding in and out of your mouth, don't you, bitch? You want this black cock filling your cocksucker mouth and pumping your throat, don't you?" As he said this, he swung his cock closer to my face, touching my cheeks with it, and sliding his cockhead across my lips. He was driving me wild with desire, and he knew it. He was taking advantage of my lust and seeing how far I would go for his cock. "I'm going home, if you want this cock, you will follow like a good cocksucker." He pulled his cock away from me and started to put it back in his pants. "You coming?"
"Yes", I blurted out desperately, not wanting him to leave without me. He smiled knowingly. He knew I would take the bait and follow him home. He could see the hunger in my eyes.
"I just need to wash my face first", I said meekly. "No! Leave it, bitch. No one's gonna see you, and if they do, they already know you're a bitch for black cock. Why else would you come here?" I stood there shocked at his suggestion that I walk out of here with cum all over my face! I don't think I had any globs of it on me, but it was sure smeared all over my face and in my hair. The smell of cock, cum and balls on my face was powerful.
He suddenly grabbed my arm and started to lead me out, "C'mon, bitch, let's go". I let myself be led out by the arm, his powerful hand grabbing me tightly, his commanding presence making me follow. We walked out of the bathroom and through the dark theatre, there were only a couple of guys there, and they only turned their heads towards us for a quick glance. But as we neared the doorway, my heart began to pound in my chest. What the hell was I doing? I was being led out in public by a big black guy. We were going out into the street and I had cum all over my face! As we approached the door, I could hear the black guys that had been standing in front of the theatre. They were still there, joking and smoking and killing time. I knew they would remember me because they had made comments about me when I went in. As we walked through the door into the night air, I looked down at the sidewalk, too embarrassed to look the guys hanging outside in the face. As we passed them, I could hear snickering and laughing, and as we crossed the street, I could hear wooping, loud joking and laughing. "He got some black dick all right! Faggot got a face full of nut! That bitch going home for more! Give that pussy up, whitey", they yelled across the street at me. They were so loud! But I couldn't do anything about them. All I could do was look down in shame, my face red with embarrassment. If they could see the cum on my face, everyone could! Luckily it was really late and there didn't seem to be anyone else around. We finally turned the corner and I was out of their sight.
The black guy looked back at me and said, "I told you they already knew you were a bitch for black cock. Even if you had washed your face, they would still know you were a cocksucker. They could spot a white bitch like you a mile away! You love black cock and it shows on your face, whether it's covered in cum or not!" His words hit me like a sledgehammer. Was I that obvious? Was it true what he was saying? Could they all tell I liked to suck black cock? I hadn't realized that by coming here I would be exposing myself so publicly! Did I want black cock so badly that I was willing to humiliate myself in public? Maybe he was right, I was just a white cocksucking faggot ready to be used for black cock. As we walked up the steps to the front door of his apartment building, I remembered the warning about black cock. I remembered how they guy on the internet had warned me that there were white guys who became addicted and put themselves in compromising situations just to satisfy their lust for black cock. To my surprise, I was obviously one of them already.
We walked up the stairs and into a third floor apartment. It was spare but clean and well kept. The black guy locked the door and turned to me. "Get undressed, bitch. I want you to take a shower and wash all that cum off your face. I want you clean for my dick." I hesitated. I had not planned on getting undressed, especially to suck his dick. But I was covered in sticky drying cum and the thought of a shower was welcome.
"Let's go, bitch. I said get undressed! I don't have time for your bullshit", he said in a commanding voice. I started to slowly undress in the middle of the room, feeling embarrassed but aroused at the thought of doing it in front of him. As I took my clothes off, he was rifling through a box on the table. He turns around and throws something at my face, saying, "Put this on after your shower. I like my bitches to wear this." I stood there completely naked holding some type of underwear. It was a cross between a thong and a jockstrap. There was a pouch with a rubber cock ring attached to the inside of the pouch and a thin black waistband. There was nothing to cover or go over the ass, not even like a string thong or a jockstrap. The whole thing was held up by the waistband at one end and the cock ring under the pouch. My ass would be completely exposed! "Stop looking at you new clothes, bitch and get in the shower!"
I went into the bathroom, laid my new clothes down and started to shower. I have to admit that the hot water felt good on my cum covered face and hair. As I washed, I suddenly hear the sliding shower door open and I see him standing there totally naked! He had the body of a god! Black, muscular and defined, his cock still semi-hard and both his cock and balls were shaved. He was a hot black stud!
"Move over, bitch", he says as he gets into the shower with me. He grabs the soap from the dish and starts washing my back. "I like my bitches good and clean". He suddenly moves his hand down to my ass and starts to clean there. He soaps up his hand and slides it between my ass cheeks, soaping me up good. I jump at the sensation. I had never had anyone touch my ass before, and much less a big black guy! "Calm down, bitch! Don't act stupid. Open that ass up so I can clean it good", he commands as he slaps my ass hard. I reluctantly bend my body slightly forward and stick my ass out a bit, giving him better access. "That's good. I like my bitches nice and clean. A white bitch like you will learn to like being cleaned by her stud". As I feel his soapy fingers slide past my asshole and rub my ass crack I let out a little sigh. The combination of his feeling and rubbing my ass and hole and his making lewd comments and referring to me in the feminine, made me get hard as a rock. As one hand fingered and massaged my ass, his other hand started to lather my chest, playing with my nipples and squeezing them between his fingers. I started to moan softly, "Oh god, Oh god", I said.
"Yeah, I know you like this. All my bitches like their pussy getting rubbed." I was starting to get hotter and hotter. His hands and fingers on my body and his lewd comments about me being a bitch and a pussy almost made me cum! He suddenly slid a finger in my asshole and I let out a long moan as he slowly slid it in and out of my ass.
"Yeah, that pussy feels good, don't it? I knew a cocksucker like you would like this. All of you white cocksuckers are the same. You act like a man with your white girlfriends, but then you're a bitch for a black cock. You give it up for a black stud."
As he said all this, he slid his fingers in and out of my ass, circling my hole and making me wild with pleasure. I had never felt anything like this before. Between his finger in my ass and his other hand playing with my nipples I was ready to explode.
"Oh, god, you're going to make me cum, I'm going to cum!" And I did. I shot a huge load at the shower wall. He pulled his finger out and continued to wash my ass and back. I just stood there with my ass out and my hands resting on the opposite shower wall catching my breath.
"Now you're going to clean your stud up real good. I like my bitches to lather me up and wash me. It's going to be part of your job as my bitch". I grabbed the soap and started to wash his chest and arms, then down to his stomach. I finally reached his cock, I took it between my soapy hands and massaged and washed it good, making sure to soap his balls up as well. He started getting hard and I was finally able to get a good look at the hard black cock I had sucked earlier. It was cut, straight and when hard, it stuck directly out in front of him. The whole scene was incredibly erotic. I was massaging and cleaning a huge black cock attached to a muscular black stud with big shaved balls. I wanted to continue doing this for ever. "Don't forget my feet, bitch", he said. I got on my knees in front of him and started to lather up his muscular legs. It was hard to concentrate with his rock hard cock pointing straight at me, sometimes hitting me on the head as I tried to wash his legs and feet. I waned to suck his cock again, but I knew I had to do what he told me. "Good job, bitch. This is going to be one of your regular duties. Making sure I'm nice and clean, you understand?" I look up at him, past his hard cock and respond, "Yes, sir".
In a matter of hours, this black stud had taken a pretty regular white guy and turned him into a black cock addict. I had sucked three cocks, I had gone out into the street with my face covered in cum and obviously at the command of this black guy. People had seen me and made fun of me. I had gotten undressed and showered with this black guy. I let him finger fuck my ass and I had a huge orgasm, and now I was washing his feet, kneeling in front of him in his shower, looking up past his hard cock and all I wanted to do was to suck him again.
"Can I please suck you cock, sir?" I asked submissively. My lust for it making me act like a complete whore, begging for his cock!
He smiled, but said no!
"Yeah, I know you want this cock, bitch, all bitches do, but not yet, I want to see you in your new clothes first".
We got out of the shower and he grabbed a towel and left the bathroom. I was left to dry myself and put my new clothes on. I put the pouch on by getting into the waistband and then fitting the cock ring around my cock and balls. They were now snugly held in the pouch and my ass was completely exposed. I looked and felt like a bitch! This guy was turning me into his bitch. I finally came out of the bathroom and saw him on the sofa with his legs open and his cock hanging lewdly between his legs. "Let me see you in your bitch clothes. Come over here and show me what a bitch you are". I stood in front of him and turned around, showing him my pouch and exposed ass.
"Yeah, you look good, bitch. This is what you wearwhenever you're here. I want you out of your street clothes and in your bitch clothes as soon as you get here, understand?"
"Yes, sir", I respond.
"Go to the kitchen and get me a beer, bitch, I'm thirsty." As I walk past the sofa where he's sitting, he slaps my ass hard. "Hurry up, bitch." I hurry back and hand him the beer.
"Turn on the VCR and start sucking my cock." I turn the TV on and hear a porn movie. I walk towards him, kneel in front of him and start to lick his hard cock. "Yeah, that's good, bitch. This movie is about white bitch faggots like you that like black cock." I could hear it was an interracial movie with a black guy fucking a white guy. As I hear the grunting, panting and fucking on the movie, I start to really suck his cock. It's making me hot as hell again, but I notice that the cock ring and the pouch are constraining my dick, and I am only able to get semi hard. As I suck his cock and lick his balls, his voice and the voice of the black guy on the tape intermingle, "Yeah, that's good, suck that cock. Suck it good, bitch". At the same time, my own moans are intermingled with the moans of the white guy on the tape.
"Show me your ass, bitch", he commands as I continue to suck him. I get on all fours in front of him, my mouth on his cock and my ass in the air pointing towards the TV. I can feel his hands caressing my back and ass. His fingers grabbing my ass cheeks and spreading them open obscenely. "Yeah, this ass is getting fucked good tonight!" As I continue to suck his cock, he fingers my ass and feels and massages my ass cheeks. I'm getting hot as hell again and loving the fact that he's playing with my ass. I begin to moan with pleasure even with his cock still deep in my mouth. As he pulls my ass towards him with his hands, he buries his cock deeper into my mouth and I'm stuck with my face in his crotch and my ass in the air being held firmly by his hands and his fingers in my hole.
"I'm gonna fuck your bitch ass good tonight. Gonna shove my black cock in your white pussy and make you my bitch. You want that, don't you, bitch? You want to be a black man's bitch, don't you faggot." All I could respond with was loud moaning, "Mmmmmmmm, mmmmmmm." I wanted his cock in me so bad now, I didn't care what he said or what he called me. He let go of my ass and grabbed my head by the hair, pulling me off his cock, leaving a trail of saliva from his cock head to my mouth.
"You want to be my bitch, don't you? You want me to fuck your white bitch ass and turn it into a pussy, don't you?"
"Yes, please fuck me, I want your cock in my ass. Please fuck me. I want to be your bitch!" I couldn't believe what I was saying, but at that moment, all I wanted was for him to fuck me good. All I wanted was his cock in my ass and I didn't care what I had to say to get it. He gets up from the sofa, leaving me in the same position, my ass in the air and my head resting on the sofa cushion. I feel him slap my as hard as he moves past me, "Open that ass up good, bitch!" I comply by sticking my as out towards him as much as I can. I then feel his hand rub lube all over my ass and asshole. I'm pretty slick and slippery now. I hear him get into position on his knees behind me and I feel his cock head at my hole. "You ready, bitch? You're gonna get what you came for, one hard black dick up your ass." He starts to push his cock into my ass. I push back to open up and he starts to slide in smoothly. As he pushes inch after inch of his cock into my asshole, I let out a long, deep moan of pleasure. My face buried in the sofa cushion and my hands grabbing onto the sofa for support. With his hands tightly on my hips, he slides his cock slowly in and out of my ass sending waves of pleasure rippling from my asshole through my whole body. I then feel his balls pressing against my ass and I know he is in all the way.
"Oh, fuck yeah. You are one tight bitch. I'm gonna fuck that ass good, bitch. I'm gonna turn it into a pussy for black cock, bitch." He pounds my ass as he says these things to me. I can feel his cock sliding in and out of my ass and his balls slapping on my ass. I can feel his sweat dripping on my back and ass from all the exertion of the pounding he is giving me. I can hear the rhythmic slap, slap of his thighs and balls as they hit my ass on his way in. I hold onto the sofa and bite into the cushions while moaning wildly with pleasure. My cock straining in it's ring and pouch but ready to explode.
"I'm gonna cum in that pussy, bitch. I'm gonna fill you with my nut. You are my fuck bitch now." He begins to pound harder and faster and I know he is ready to cum. As he speeds up his fucking, he makes me ready to cum also. Suddenly, he pushes his cock deep inside me, pulls back on my hips and says, "Take it, bitch. Take my cum," and I feel his cock explode in my ass and fill it with his cum. At this point I begin to cum in my pouch, unable to resist any longer. He slowly pulls his cock out of my ass and I'm left exhausted on all fours with my ass dripping his cum.